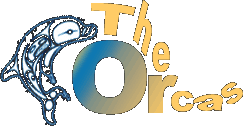 The Orcas is a fake band name for recording done by me, Jeff Gerhard. Thanks for listening.
"Exception might be taken to the name bestowed upon this [killer] whale, on the ground of its indistinctness. For we are all killers, on land and on sea; Bonapartes and Sharks included."
— H. Melville, Moby-Dick
Scroll down for news and stuff…
November 9, 2008:
Hey there. Thought perhaps I should alert folks to the fact that I sometimes post random music on youtube these days. You can check out my youtube channel for random covers and occasional original songs or improvisations. Nothing fantastic but there are a few things I am happy with, like the following piece:
I'm trying to practice my (lame) recording techniques, in preparation for a busy winter of musical projects, so here is a recording I did yesterday of an old G'nR song. I was trying to do it in shoegaze-style but it mostly just sounds like a mess:
February 27, 2008:
Here's a piece I recorded last weekend — not really a song but just a guitar fragment that sounded nice but wasn't going anywhere:
It's was mainly a chance to play with a ring modulator.
Also for the record, here is another instrumental piece I recorded for the holiday season:
Not much else to report. One of my bandmates posted a couple videos on a youtube site for Sutures; if you're interested you can check them out, too.
December 3, 2007:
Procrastinating me has just recorded a demo for "Hangin'" — 'tis a song from a couple years ago that has fallen through the cracks of Sutures and one which I could never really get a handle on. I wanted it to be sort of angry and evil-sounding, though the message is more ambiguous.
Also, I never got around to posting on here the last solo song I recorded, a wistful one that was about the disorientation of returning to America after a couple years abroad:
But really, I just have no time to do my little recordings, though they do make me happy. Most of my musical energy is being absorbed by my band, and the rest is dissolving, untapped, into the ether. Maybe more soon though since I'm nearly done with school... We shall see.
October 12, 2007:
So my band Sutures recorded a few demos at the home of some college kids in Virginia who had tons of musical equipment but a messed up computer. Anyway they turned out alright — maybe the best-sounding things I have ever recorded? But that isn't saying too much. Anyhow you might want to check them out, given the long delays since I have produced any new material. They are available to download from our myspace page. (The fourth track on the page is a live rehearsal take, lower quality, but a pretty rocking song.)
January 28, 2007:
Hola! I decided it was time to get this website back on the internet — my way of gearing up to do some new recordings. Nowadays things are more complicated than they were a few years ago: I am busy with school and work, and I have a band that takes up much of my time for music. But I am kind of getting back into the whole home-recording thing, playing around with new musical toys. So as a prelude I am reviving Pretend These Are Records for the modern era. I don't guarantee that all the old links on these pages will still work, but all my old albums should be alive again for your downloading pleasure.
More soon, I hope.
August 25, 2004:

Ahem. Testing, testing.
A few notes today. Most importantly, I am announcing the release of Love Plus, a new album. This was about 99% recorded in Poland and the remaining 1% was wrapped up in Frostburg in July. It is my second real album (after Kraj) and I think it sounds pretty good.
Also I have basically finished a project to do artwork for my music and make actual releases to give out to family and friends and attractive acquaintances. So if you'd like a CD of any of the following, e-mail me and I'll send you a copy:
Frostburg & DC Demos (2001 – 2002)
Kraj (2003)
Let's Make the Prequel First (2003)
Discount Boy Genius (2004)
Love Plus (LP, 2004)
I am also attempting to put some of the artwork online. I'll do my best.
I have another song recorded in Poland that isn't on Love Plus that I will try to get out soon, along with a song actually written in Polish if you can believe such a thing. So I still have more work to do. More later.
March 28, 2004:

Introducing Discount Boy Genius:
A collection of old songs ('95 to '00) recorded recently. A full-length album! 54 minutes of music! And not only is it super-crazy-long, but also I am finally getting better at recording; these are not my best songs but they sound much better than ever… Check it out and let me know what you think. This one you can actually listen to like an album, it is sort of cool that way.
This was a big project but I am just full of musical ambitions lately. A lot of these songs were really short since I didn't write very long songs back then, but I am itching to do some longer things. Prog-rock, anyone? We shall see. For now though, I think I need a break from recording and, hey, it is finally getting warm here…
March 7, 2004:
Well, here is a new website design. I thought it would be fun to have a discography and then things kind of escalated from there. I also re-arranged some things and added various new entertaining features. Entertaining for me, that is. I actually still kind of prefer the old version but it was getting too unwieldy.
Despite this updated look, there is really just one new song available; it's called ebdgbe. I lumped it together with Christmas Lights to form a single.
Coming Soon: Discount Boy Genius, a collection of old songs.
November 10, 2003:
Two new songs for ye:
Christmas Lights
A brand-new one – really really just a demo version, I've already re-arranged it a bit for a future version. I dunno where this pop sound came from, it strikes me as a Belle and Sebastian rip-off, of all things.
September 22, 2003:

I am rolling out a new EP which I'm calling Let's Make the Prequel First. These are some of my old songs that I am finally recording to my moderate satisfaction. The tracklisting is:
Hand (originally written early 2002),
Unsmoked (originally written circa 1999),
Neighborhood of You (originally written in 1998), and
Scaredy-Cat (originally written in 1998).
I'm heading back to Poland in a few days. Who knows what musical adventures will take place there? But I am fairly siked to have taught myself a Myslovitz song in preparation.
August 26, 2003:
I posted a new song called Dead Serious

.
It could probably sound better with a full band; ah well. I made a couple of site updates: the Kraj songs weren't downloading properly but they should now. And I am introducing the ORCAS SONG MEGACHART for easier and maybe more entertaining access to the songs and lyrics.
June 5, 2003:

What's new? I am starting to revive this site and add a few new things — the songs I've written in Poland, and also a bunch of lyrics where appropriate. I'm also revising the design to make things look better and be more accessible. Well, more the former than the latter. But you know.
I tried to record things from Łomża as best as I could. Some of the new stuff is quite good, some of it not so great. Almost all of it is just posted for convenience's sake: if I had a real four-track here I could make them more polished or interesting.
Among the various technical problems in producing these newer tracks was the fact that I couldn't find a microphone in this town which would be any good for me. Eventually I bought one at a store and had to cut it and solder it onto an adapter. Still, it isn't that great. Then don't get me started on the limits of "Audacity," which is the program I used for recording. Grr. Anyway at least I accomplished something. Next year maybe I will actually bring a four-track with me.
Living in Poland has certainly been a complicated experience. Most of the new songs are in confessional mode, so you can glean a lot about my life here. Maybe the lyrics are a bit too direct and embarrassing but I hadn't really tried this mode of writing before and it seems to be both suitable and fertile.
For the summer, I plan on being in the U.S. and doing as much recording as possible. I still have a massive backlog of good old things that I'd like to do up proper. Not sure what I will ever do with all this music. But there are worse problems in the world.
March 30, 2003:
New Song Available:
Based on true events and featuring a strikingly unoriginal sound (working title was "Trail of Thurston"). Written and recorded yesterday on my laptop: the vocals come out so poorly that I had to drench it in reverb.
September 6, 2002

Here are some audio files for you all to check out. These ones are done to 4-track, and while they are not exactly Tape Op material, the sound will suffice.
Why orcas?
Well, it was on my list of good band names for a while. I really wanted to use "Jai Alai" but then I discovered a band that had that name. And then once I started using "Orcas" I had to make all of these songs by "The Orcas" except for that one which I had already assigned to "Phantom Limb." Whatever.